Allen Collins Band
---
History
The Rossington-Collins Band had called it quits. Reeling from the loss of his beloved wife, Allen Collins had thrown his guitar down on stage and walked out on the band, putting an end to his partnership with Gary Rossington. It was time to regroup.
Allen Collins formed the Allen Collins Band in 1983. Joining him would be his fellow Rossington-Collins bandmates Leon Wilkeson, Billy Powell, Barry Lee Harwood, and Derek Hess, minus Gary Rossington and Dale Krantz. Replacing Rossington would be Collins' friend Randall Hall, and Jimmy Dougherty would assume lead vocal duties.
The band released their first and only album, Here, There, & Back, in 1983. The band proved to be the most Skynyrd-like of all the spyn-off bands, preforming Skynyrd classics and songs of their new album in concert. Sadly, the band would be short-lived. New MCA boss Irving Azoff wanted nothing to do with Collins, and the record's promotion suffered as a result. The band broke up after only one album.
Allen Collins life went on a downward spiral from there. In 1985, Collins was involved in a horrible car accident that took the life of his girlfriend and left him paralyzed from the waist down. No longer able to play guitar, Collins' career was over.
In order to pay his ever mounting medical bills, Allen and father Larkin Collins got the idea of a Lynyrd Skynyrd tribute tour. Original members Gary Rossington, Ed King, Artimus Pyle, Leon Wilkeson, and Billy Powell were joined by Johnny Van Zant on vocals and, taking Allen's place on guitar, Randall Hall. Collins served as a consultant on the tour, selecting set lists and other duties. The tour was a huge success, but one can only imagine the depression Allen went through seeing his friends up on stage and not being able to join them. Another tour followed, but after another disagreement with Rossington and the band, Allen did not join them.
Allen's medical condition detoriorated, and after a bout with neumonia, Allen died on January 23, 1990. A sad end to a once so vibrant man. In many ways, the death of Allen Collins was the biggest tragedy Skynyrd ever suffered.
---
Members
Allen Collins: Guitar
Barry Lee Harwood: Guitar, Vocals
Randall Hall: Guitat
Leon Wilkeson: Bass
Billy Powell: Piano
Derek Hess: Drums
Jimmy Dougherty: Vocals
---
Albums
Here, There, & Back- MCA 1983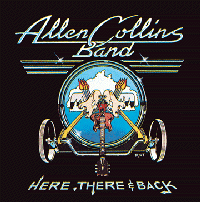 Tracklisting:
1. JUST TROUBLE

2. ONE KNOWN SOLDIER

3. HANGIN' JUDGE

4. TIME AFTER TIME

5. THIS RIDE'S ON ME

6. READY TO MOVE

7. CHAPTER ONE

8. COMMITMENTS

9. EVERYTHING YOU NEED
Credits:
Produced by Allen Collins for LAC Productions
Comments:
A very good album, much in the Lynyrd Skynyrd spirit. Highlights include Chapter One (which appeared on the Solo Flytes compilation) and my personal favorite, Commitments. Try to get this one if you can/