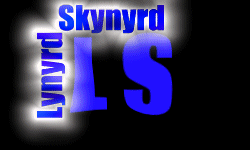 Home
Skynyrd News
Tour Dates
Discography
Biography
Spyn-Off Bands / Solo Careers
Skynyrd Links
Current Band Members
Past Band Members
Rare Skynyrd Audio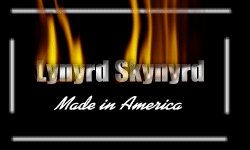 Skynyrd Links
A great tribute indeed. There are some truly awesome Kynyrd and Skynyrd-related photographs on this site, so check it out!
If you're looking for information on live Skynyrd recordings, look no further than here. Setlists, MP3 samples, and more. Great site, and the first of its kind on the web.
Lots of information here. Run by Ronnie's widow Judy Van Zant.
Official website for Steve Gaines run with the help of his widow, Teresa Gaines Rapp. Great site for a truly great performer who is greatly missed by all.
Visit the official website of Judy Van Zant's new Freebird Cafe restaurant.
Another official site from CMC International.
Focuses more on the current day band. Recently redesigned and much more impressive than its previous incarnation.
Great site, regularly updated. News, tour dates, etc. Everything my page used to be before I got lazy and stopped regularly updating.
Great biography. Very comprehensive.
Good page, great discography page.
Nice page, lots of pictures.
Great page by two of the nicest people in Skynyrd-land.
Check out this southern rock band from Texas. Great sound.
Pretty crappy site. Run by an email service called Mail Works. Basically just a scam to get you to use their service. Doesn't deserve to have that domain name. But if you want an @lynyrd-skynyrd.com email address, go here.
Skynyrd Mailing Lists
Looking for some unreleased live Skynyrd? This is the place to go.Again, follow the link to Onelist and do a search of Lynyrd Skynyrd. It's listed simply as "Lynyrd Skynyrd". Join this list!
There are a lot of informative Lynyrd Skynyrd mailing lists out there. Go to Yahoo! Groups (formerly Egroups, which was formerly OneList) and do a search for Lynyrd Skynyrd.