Steve Gaines & Crawdad
---
History
The following biography is taken from the Free Bird Foundation website at http://www.skynyrd.com. All credit goes to them:
"The eloquence of Steve Gaines' music was its truth and simplicity. During the years he spent as a member of Lynyrd Skynyrd before the tragic plane crash that ended his life, Steve made an enormous contribution to what was already a legendary American rock n roll band. With songs like 'You Got That Right' and 'I Know A Little', Steve's unique guitar, vocal and lyric statements quickly endeared him to the legions of Skynyrd fans."
In Miami, Oklahoma's Baptist Hospital, the 19 inch Steve Earl Gaines weighed 7 pounds, 12 ounces when born at 3:15 pm on September 14, 1949.
During the '60s when English rock guitar legends were developing their own styles heavily influenced by the magic of the American blues and R&B kings, so too was a young Steve Gaines falling under their spell. Beginning with a trip to Kansas City to see the Beatles, Steve fell in love with playing the guitar -- it was his entire life. Later, after he pestered his father enough to buy him his own guitar at age 14, Steve was never without his instrument. If the guitar was not strapped around his neck, it was lying within constant reach.
Steve began his musical journey as a young guitar player with the Ravens, a local band from his hometown of Miami, Oklahoma. The group made its first recording at the immortal Sun Recording Studio in Memphis. Next came RIO Smokehouse, which led to a stint with Rusty Day and Detroit, a band that grew out of the earlier ensemble fronted by Mitch Ryder.
It was during that time in Michigan that Steve hooked up with producer John Ryan and the two became lifelong friends. Steve recorded several tracks with Ryan, including a version of the Curtis Mayfield classic, 'Its Alright', first performed by the Impressions. These songs were eventually released by MCA in 1988 as a Steve Gaines solo album, One In The Sun. Steve married his longtime girlfriend, Teresa, and had a daughter, Corrina, in 1974.
In 1976, Lynyrd Skynyrd seriously started looking for a third guitarist to replace Ed King who suddenly left the band in 1975. Steve's sister, Cassie, began touring with the Honkettes (Skynyrd's female backup group) shortly after the release of Gimme Back My Bullets. She approached Allen Collins about having Steve jam with Skynyrd when they played in Kansas City. Although initially reluctant, the band relented and on May 11, 1976 Steve joined Skynyrd on stage for one song. Cassie convinced him to drive to Kansas City from his small farm just outside West Seneca, Oklahoma. When he arrived at the auditorium, the Skynyrd members and crew were all too busy to pay much attention to the guitarist, but Steve finally met Gary and Allen after the soundcheck. They began to run through their plans for Steve's jamming with Skynyrd. Gary remembered he and Allen making fun of the "Holiday Inn lounge player" and figured "he was some dummy who couldn't play, but Cassie convinced us she wouldn't have asked if he wasn't any good. Shortly before going onstage that night, Steve was introduced to Kevin Elson, who ran Skynyrd's live sound. Kevin recalled, "The band said to me, 'Look, this is Cassie's brother, we're just going to let him play. If its good, fine... if its not, turn him off.'"
Elson didn't turn him off. Steve came out for 'T For Texas' and hooked his guitar into his small Fender Twin Reverb amp and played. The amp was so tiny the others onstage could barely hear what he played, but he did make a lasting impression on Gary, "That was a song Allen and I took a lot of leads on and Steve came out and put a slide on, just to be different. We really dug that."
Two weeks later, Ronnie VanZant called Steve and told him to be in Myrtle Beach, South Carolina at the end of May. He was going to be Skynyrd's third guitarist.
A month later, Steve joined the band on stage for the recording of Skynyrd's classic, One More From The Road at Atlanta's Fox Theatre in one of those quirks of fate where everything just worked.
In many ways, Steve's joining the band reinvigorated a stagnated Lynyrd Skynyrd. He inspired the other musicians to play their best and reignited the fire that sparked new Skynyrd songs like 'You Got That Right' and others released on Street Survivors in 1977. Asked to reflect on his success the day Street Survivors was released, Steve commented, "This is like a start of what I want to do. This is the beginning. I hope that I can be good enough to keep on going... This is all I ever dreamed about, you know? just doing this." The day after the album's release, Skynyrd set out on an ambituous tour headlining across the country. Just three days into the tour, Skynyrd's private plane went down in woods in Mississippi killing Steve, his sister Cassie, Ronnie VanZant and manager Dean Kilpatrick.
Although Steve is no longer alive, his spirit and talent will live on forever through his songs both with Skynyrd and solo.

For more information on Steve Gaines and the bands he played in prior to joining Lynyrd Skynyrd, visit The Official Steve Gaines Web Site and Ron Brooks' web site.
---
Members
Steve Gaines: Guitar, Vocals
Terry Emery: Keyboards
John Moss: Guitar, Bgr. Vocals
John Seaburg: Bass, Vocals
Ron Brooks: Drums
Tommy Lokey:
Bruce Blair: Keyboards
Chip Miller: Congas
---
Albums
One In The Sun - MCA 1988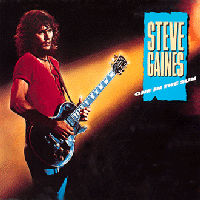 Tracklisting:
1. GIVE IT TO GET IT

2. IT'S ALL RIGHT

3. BLACKJACK DAVEY

4. ON THE ROAD

5. ONE IN THE SUN

6. TALKIN' ABOUT LOVE

7. NOTHIN' IS NEW

8. TAKE MY TIME

9. SUMMERTIME'S HERE
Credits:
Produced by John Ryan and Tom Dowd
Comments:
This album, released in 1988, is a collection of songs Steve Gaines recorded with friend John Ryan and his band Crawdad prior to his joing of Lynyrd Skynyrd. A collectoin of covers and original songs, this album gives you an idea of the kind of music "It's All Right" was originally written and performed by Curtis Mayfield, and "Blackjack Davey" is a cover of Taj Mahal's arrangement of the tradidtional song, also covered by the likes of Bob Dylan. Among Steve's originals is the haunting title track, "One In The Sun", a true masterpiece. This song found it's way on Lynyrd Skynyrd's Legend album, overdubbed by various Skynyrd members. Both versions are exceptional. The rest of the album is great as well. Unfortunately, its no longer in print. Let's hope that MCA comes to their senses and re-releases albums like this one and Allen Collins' Here, There, And Back. Of all the Skynyrd-related albums, this one is one of the best (that' I've heard anyway).
---
Okie Special - Okie Productions 2000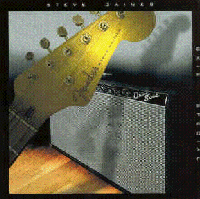 Tracklisting:
1. ROAD RUNNER

2. CROSSWINDS

3. YOU TALK TOO MUCH

4. IT CAN'T MAKE ANY DIFFERENCE TO ME

5. SNATCH IT BACK AND HOLD IT

6. AIN'T NO GOOD LIFE

7. I DON'T WANT TO LOSE

8. NO MONEY DOWN

9. SHE MUST HAVE PUT HER WHAMMY ON ME
10. WHY
11. TURKEY IN THE STRAW
12. FANNY MAE
Credits:
Produced by Okie Productions
Comments:
The first live release from Teresa Gaines' Okie Productions, which can be purchased at http://www.stevegaines.com. A great collection of Steve's pre-Skynyrd live performances. Take note of the pre-Skynyrd version of Steve's "Ain't Know Good Life".
---
I Know A Little... Live - Okie Productions 2001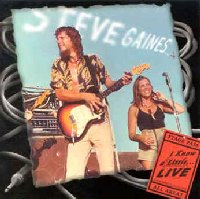 Tracklisting:
1. I KNOW A LITTLE

2. ALONE IN THE MULTITUDE

3. PEOPLE COMIN' AT ME

4. PIANO BOOGIE

5. LONESOME CANNONBALL BLUES

6. BALLAD OF THE HAWK AND CHICKEN

7. LEOPARD SKIN PILLBOX HAT

8. IT'S ALRIGHT

9. ONE IN THE SUN
Credits:
Produced by Okie Productions
Comments:
The second live release from Teresa Gaines' Okie Productions, which can be purchased at http://www.stevegaines.com. I must confess that I don't have this one yet, but I will soon. If it's anything like Okie Special, it's good.